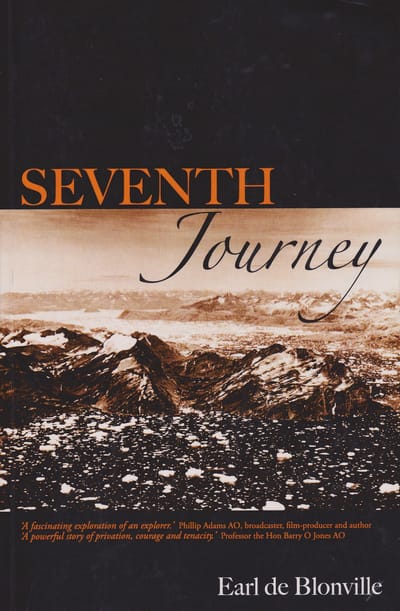 Seventh Journey
Author: Earl de Blonville
Bear Books. Paperback. 416 pages.
16 pages of colour, 155 halftones throughout
Author's Private Edition of 500 signed copies SOLD OUT
ISBN: 978-0-9805830-0-7
About the Book
In the year 986AD Viking Erik the Red sailed west from Iceland to Greenland with no idea of what awaited him. Exactly one thousand years later Earl de Blonville followed him, equally unprepared, on Australia's first expedition to the Arctic.
After an almost fatal training expedition across Bass Strait, his team sailed from England with all their equipment for Greenland. Violent North Atlantic storms, mutiny and continual gear failure cost them the short Arctic summer. But rather than give up, de Blonville decided to risk travelling the 600 nautical miles of ice strewn coast in winter, and led his sea kayak team south, into the East Greenland wilderness.
Within a month they were stranded on a sinking rock, having lost all their food and equipment. For a week they starved, soaking wet, in a 140 knot snowstorm. Although they escaped to find an Inuit hunting camp, worse was to come when, surrounded by massive icebergs, their yacht was capsized and totally disabled in another hurricane.
Financial difficulties continually threatened to scuttle the project and personal conflicts overflowed into violence. Yet despite this being, as the author quips, a journey they did not deserve to survive, he reveals great humour and warmth, with cutting insights and deep philosophical reflection.
Earl de Blonville's rivetting account of this hugely ambitious journey is ruthlessly honest and spiced with candour. He reveals his team's personal struggles as they face the savage reality of Arctic winter, and he analyses his own failings searching for universal truths about leadership.
About the Author
Earl de Blonville's adventure leadership and consulting career spans almost 40 years. He began solo sea kayaking at 11 years old, from a seaside home where two great 19th century explorers had their camps. He trained as a professional mountain instructor in the UK and has worked with Outward Bound and University Outdoor Education programs. He is a Fellow of the Royal Geographical Society, London, and has acted as advisor to desert and Arctic expeditions.
In Australia, he created Australia's richest and toughest mountain horse competition, led the development of executive adventure travel and directed the Tall Ships spectacle that officially opened Australia's Bicentenary celebrations. Earl pioneered modern sea kayaking in Australia with the first circumnavigation of Tasmania, a trip now undertaken by international sea kayakers as the acid test of competence. He led Australia's first expedition to the Arctic, with his documentary film released internationally.
As a leadership coach and communications advisor, he has served with two of the world's leading consultancies and worked on high value assignments in the public and corporate sectors. His principal focus has been on the development of personal leadership for highly complex and uncertain times.
Short Reviews
'A fascinating exploration of an explorer'
- Phillip Adams AO. Broadcaster, film producer and author
'A powerful story of privation, courage, obstinacy and tenacity'
- Professor Barry Jones AO. Writer, Australian Minister for Science 1983-90
'Makes valuable reading for today's business leaders'
- Jonathan Hutchings. Managing Director, World Wide Entertainment Ltd
'The action is utterly engrossing'
- Richard Gilmore. Executive Director EarthWatch Institute
'A disarmingly frank account. The writing soars'
- Andrew Hughes. Explorer, Founder Expedition-Class Online Learning
'A beautifully written and insightful story'
- Peter Hillary. Everest mountaineer & expedition leader. Author of international bestseller: 'The ghost country' 'A wonderful read and amazingly, it's all true!'
- John Bertrand AM. Winner of the 1983 America's Cup. Author of international bestseller: 'Born to Win'.
'A masterpiece of exploration by a poet of action' - Bill Green. Multi-award winning author. Screenwriter: 'Terminator 2'.
'Has the potential to become a classic in the genre'
- Rick Swinard. Corporate Affairs Manager, News Limited.
'A remarkable book and a classic of modern travel'
- Anthony Marshall. Award winning author and broadcaster.
'A truly exotic experience' - Cheryl Barassi. Book reviewer & arts patron.
'An explosive mix of physical & human drama'
- Catherine Hammond. Editor & manuscript assessor for HarperCollins, Simon & Schuster, Allen & Unwin, Pearson.
'Earle is a romantic who knows how to bring history alive'
- Colin Monteath. Polar explorer & wilderness photographer.